Free Psychiatry CME/CE Courses
Our comprehensive selection of free psychiatry CME courses offers valuable opportunities for mental health professionals and psychiatrists to stay up-to-date with new treatments and research. Enhance your knowledge with free courses on depression, schizophrenia, and tardive dyskinesia. Improve patient care and stay abreast of the newest developments in psychiatric medicine.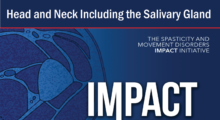 The IMPACT Initiative Learning Center: Head and Neck Including the Salivary Gland
This activity provides an update on using ultrasound guidance to optimize procedural guidance for head and neck botulinum neurotoxin (BoNT) injection including ultrasound pattern recognition, scanning tips, and guidance techniques.